HIRO'S
WAR
A NOVEL
by Rebecca Taniguchi
What does it take to attain the American Dream of liberty and justice for all?
What is demanded of us as individuals and as a nation?
Explore these questions as aging World War II veteran Hiroshi Koga tells his life story, from the days he and other nisei—second-generation Japanese Americans—and their issei parents are thrown into U.S. internment camps because of their race. Volunteering from behind barbed wire to serve the country that imprisoned him, feisty Hiroshi becomes a highly decorated staff sergeant while suffering further injustice and the loss of his dear friend. Years after the war, a subdued Hiro meets with his old lieutenant, Toshio Ando, and both men acknowledge that they are haunted by their inability to put an end to the inequity and by their roles in the death of their comrade.
Using the hero's journey motif to its fullest, Hiro's War evolves from a wartime coming-of-age saga into a search for peace on a personal and national scale. Hiroshi engages the reader from the very start, sharing his pain at being orphaned at the age of thirteen and then betrayed by his country after Pearl Harbor. With him, we experience the horrid conditions of the assembly centers and internment camps that the government cobbles together in panic, and our hearts beat with his as he struggles to win true love amidst the chaos. When Uncle Sam does an about face and calls nisei to serve, we stand by his side as he decides to fight for the ideals of America, not its foibles. Battle after battle, we sweat and strain to conquer the enemy under the very best of generals and the very worst. The effects of ineptitude at the top reach down the ranks during the dark Vosges campaign, paving a path of treachery and loss that affects Hiro for the rest of his life and pits him against his beloved lieutenant. As the nation debates redress for the internment, Hiro and Ando struggle to right the wrongs of the past and forgive themselves and each other. Secrets long held by the government and by Ando, Hiro, and Hiro's wife are exposed, inflicting pain while offering a challenging path toward redemption.
Meticulously researched and sensitively written, Hiro's War is a great choice for anyone who wants to learn more about this shameful chapter of U.S. history, from high schoolers and their teachers to adult readers and students of history and the human condition. The novel is especially poignant reading for all Americans at a time when minorities are again shunned as outsiders.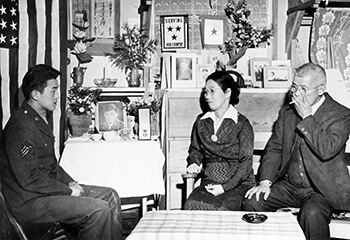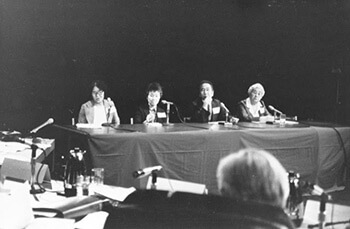 Available at Barnes & Noble
Available at Bookshop.org
Available at Books-A-Million
Hiro's War
is an important novel, based on meticulous historical research and told with tremendous love and grace. Taniguchi sheds much-needed light on a hidden chapter of history, and she does so in a way that is deeply moving.
— Dawn Raffel
Author of The Strange Case of Dr. Couney
Hiro's War is a remarkable tale of the injustices imposed upon loyal patriotic Japanese Americans before, during and after World War II. While this book is a novel based on true events, it should enlighten readers as it relates the forced evacuation of thousands of families, many were U.S. citizens, from homes, businesses, and farms on the west coast to live in the grim harsh conditions of internment camps throughout the western U.S. during the war.
Taniguchi gives us a bird's eye view of the hardship and heartaches that interned Japanese Americans endured at this time. She deftly illustrates the sights, sounds, smells of their experience while delving deeply into the pathos of this sad part of American history. Not only do you feel that you are walking with Hiro into war and learning how he earned his stripes and purple hearts, but you will also be a witness to history through the lens of the Japanese American experience stateside. Taniguchi thoughtfully brings each character to life revealing their foibles, strengths and weaknesses.
Hiro's War was so engaging on several levels. As a reader I enjoy a book that tells a good story, that teaches me something new, and has a story that I can relate to in some way. This book did that for me. I knew very little about the Japanese/ American experience in the internment camps or in the War. The author's description of Hiro's and other character's experiences in the internment camps opened my eyes to that time and made me curious to find out more. In spite of that treatment, these Japanese Americans were willing to sign up and go to war to fight for America- impressive and dreamed of achieving the American Dream. I feared I would be bored during the war section of the novel, but quite the contrary- the author pulled me in; I was in that war. I gained love for some of the soldiers and real hatred for others ( Fowler in particular).